I wanted to share my experiences over the past week, as a beacon of hope to my fellow indie game devs, as I sit here watching an app that I created sitting comfortably in the App Store's Top 25 Overall.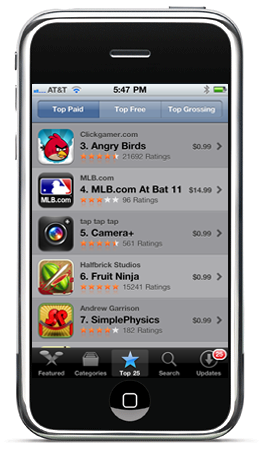 The name of the app is SimplePhysics, and it became available in the app store Thursday (3/24/2011). I have been preparing for this moment for a few months now, starting back in December of 2010. I implemented a dialog popup in my other games that asked the user if they'd like me to e-mail them when I released a new game. Since that time, amazingly, I have been able to collect over 35,000 e-mails. This is largely due to a promotion I did with FreeAppADay.com, who I highly recommend if you want to boost your fan base.
I created an e-mail campaign at Campaign Monitor, and loaded in my list. I created an extremely basic e-mail, and got everything ready to pull the trigger.
Here's the e-mail:
Hello!

This is Andrew Garrison, the creator of BridgeBasher.
I am excited to let you know that BridgeBasher's sequel,
SimplePhysics, is now available in the App Store! If
you like BridgeBasher, then you will love SimplePhysics.
You can find out more about it here:
http://itunes.apple.com/us/app/simplephysics/id408233979?mt=8

Thanks, and I hope you enjoy it!
-Andrew

ps – If you do not wish to receive e-mails about my game
releases in the future, you can unsubscribe here.
At the same time, as I was setting up this e-mail campaign, I tweaked my other app, and I removed the e-mail signup dialog and replaced it with a dialog that linked directly to my new app. I submitted the update to Apple, and set it to "Hold for Developer Release." Now I had all of my ducks in a row. When I release these updates, and my existing user base loads up the new version, they will immediately be hit with a dialog telling them about my new game, along with a link directly to the iTunes page where they can buy it.
SimplePhysics went live Thursday, March 24th, and I sat on it for a few days to make sure it propagated to all app stores worldwide. Last Wednesday, I pulled the trigger. I sent the e-mail and I logged into iTunesConnect and released all of my app updates. After less than 12 hours, SimplePhysics rose to #12 overall in the iTunes App Store. I had complete refresh-syndrome….constantly holding my iPhone, checking the charts every other minute. I watched in complete amazement as SimplePhysics rose to #1 in Games->Simulation, ousting NBA Elite, a game made by friggin Electrnoic Arts. It is almost euphoric to see a game that I made sitting on top of a game made by EA.
For those of you who are interested, these are the numbers for the e-mail:
35,704 e-mails sent
13,558 opens
1,574 bounces
20,572 not opened (misleading statistic, since some email clients block the tracking image)
334 people unsubscribed
45 people marked it as spam
6,182 clicks through to the iTunes purchase page from the e-mail
I do realize that this rise on the charts is fleeting. I realize that once all of my e-mails are opened, and once all of my users have updated, that the game will start quickly falling from the charts. Nonetheless, it is still extremely exciting, and I hope it will encourage my fellow indie game devs. The app store is such a great opportunity for indie game development. It is the only place that I know of where a little guy like me can outsell a major game company.
If you want to see the app, here's the product page for it:
http://itunes.apple.com/us/app/simplephysics/id408233979?mt=8