Touch Island was submitted to the iTunes App Store last night. The initial price will be $0.99. I'm hoping for a speedy approval with no rejections! That might be a lofty expectation, but I've only had one rejection thus far from Apple, and that was BridgeBasher Lite.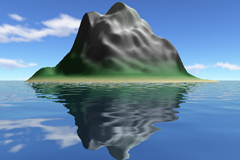 I built this island in about 3 minutes using an arsenal of finger swipes.
Here's a summary of Touch Island:
Description
Unleash your creativity with Touch Island as you build an island with your fingertips. An exquisitely easy to use interface lets you sculpt a beautiful island in seconds. When you are done, you can photograph it and share it with your friends so they can rate and comment on it.
Features
Sculpt mountains, valleys, and lakes with your fingertips.
Paint your island with a wide range of colors.
Auto color your island. Want a beach that is smoothly blended into grass, then mountains with snowy white caps? No problem, Auto Color can do that with one tap.
Take a picture of your island with a high quality ray tracer that renders your island surrounded by realistic water with reflections. Control the direction of sunlight and how it hits your island to get the optimal lighting on your island as you photograph it.
Upload your island so other people can view it, rate it, and comment on it. You can check on your uploaded islands at any time and see how they are doing and how many visitors have marveled at your work.